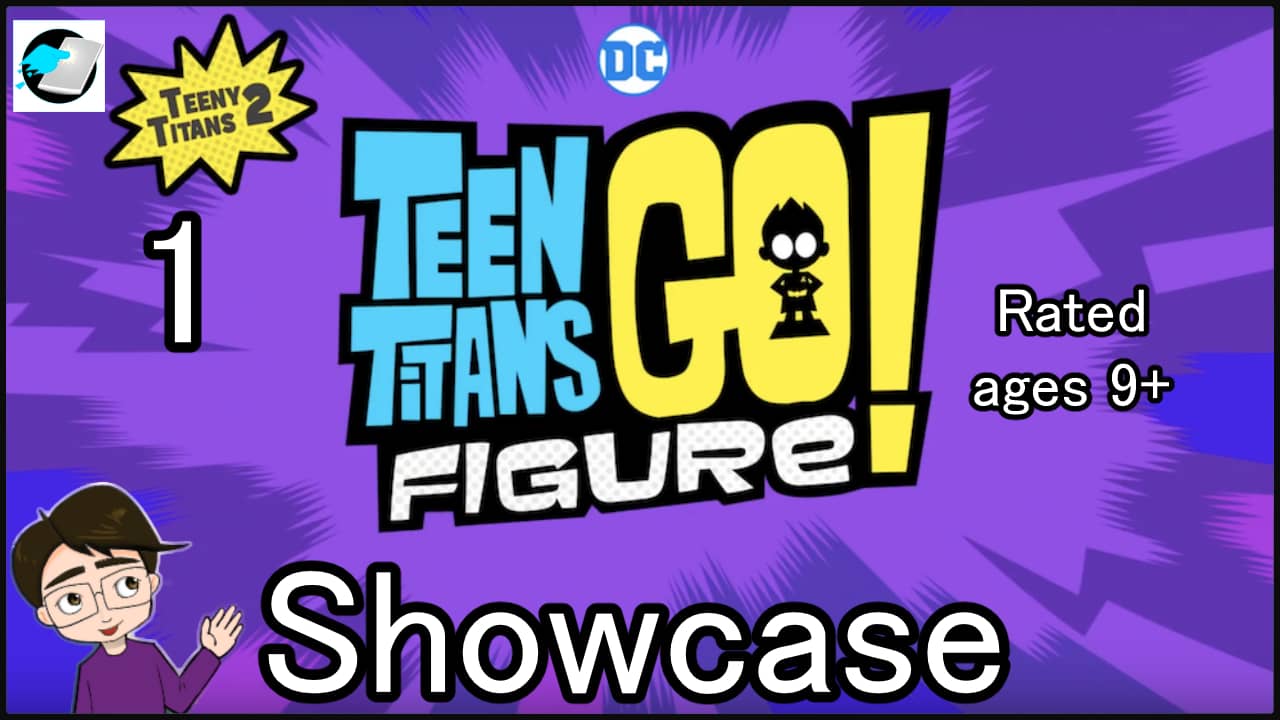 Hello, dear reader, I hope you're having a good day. I'm not being paid to write this blog, and it contains my first impressions from playing "Teen Titans GO Figure!" (Teeny Titans 2) on iOS. You can check out my YouTube channel at Lunar Nebula LLC Gaming to see "Teen Titans GO Figure!" gameplay in action. I'm planning to play it through the game.
Cartoon Network created Teeny Titans 2 due to the success of the previous installment. This time around, you get to choose to play as your favorite Titan! I chose Raven mostly for her dialogue. The game is based on the "Teen Titans GO!" cartoon series. Teeny Titans 2 is a pay-to-play figure collecting and battling RPG (role-playing game). The mechanics are pretty much the same as Teeny Titan's. At level 10 it looks like figs can equip an accessory, but I haven't unlocked one yet. "Teen Titans GO Figure!" costs $3.99 at the moment and has in-app payments to buy rare figs. The most expensive purchase is $9.99. You get a lot of content for the money and more figures to collect! The game includes voice acting. You don't need an internet connection to play Teeny Titans 2. It takes about 1.5 GB of space. Also, I haven't experienced any bugs, crashes, or UI (user interface) problems! The swipe movement system feels improved from the last installment (or I'm better now).
Teeny Titans 2 is rated 9+ on the App Store for Infrequent/Mild Cartoon or Fantasy Violence. There are some jokes that may annoy you. It really depends on your sense of humor. Also, everyone in the game may be addicted to collecting toys.
Review:
Teeny Titans 2 doesn't break tradition. The game directs you to collect figures, battle with heroes and villains, and features a fun leveling system which forces you to choose what stats you want your figures to have. The mechanics are the same as last time with an extra unlock for figures at level 10. I believe it's an accessory, but I haven't played enough to find out yet. I just saw Cyborg's gun in a store and it adds a random waffle effect so I'm guessing it will be his equippable item at level 10. Another new feature is the ability to repaint your figs using repaint tokens. It appears figures have about 5 coloring schemes you can unlock using repaint tokens. The battle system is the same and features a time bar. Every action you want to perform requires time to reach. Skills can stun your time bar, interrupt charging attacks, and stack up. Your figures can also get lucky tofu blocks which add random power-ups. Tofu can now grant a shield from damage making multi-hit attacks better than before. Teeny Titans 2 carries the same energy, fun animation, and interactive leveling system as the first. If you loved Teeny Titans, Teeny Titans 2 is definitely for you! I think you get a wealth of content and fun for the measly price of half a good burrito. I recommend playing Teeny Titans 2 if you are ready for a fun collecting and battling RPG!
Time: Teeny Titans 2 isn't energy-based. You can play as long as you want to. Most matches take 2 to 5 minutes. Some boss battles are true tests of will and skill and can take around 20 minutes. The game autosaves though I'd make sure to hit the home button before quitting. Just in case.
Pros and Cons: Teeny Titans 2 is fast to play. It doesn't make anything complicated, yet there's still the depth of strategy and timing the first installment introduced which makes it fun to play for a long time. The question is if you enjoy timing attacks and collecting figures. I think the game continues what was great and adds some zing. The story and characters are fun. I love you can now select a Titan to have as your main character.
Overall Impression: "Teeny Titans 2 Teen Titans GO Figure!" is an excellent successor to Teeny Titans. I think it's worth the price tag. It keeps the fun mechanics and adds some fresh surprises. I read in the App Store that Teeny Titans players will get two figures (The Hooded Hood and another if you've beaten the first game. I haven't seen these figs yet). I like the expanded story and the game's battle system. Teeny Titans 2 is in the App Store waiting for you! If you don't like RPGs, timed battle systems, or kids cartoons, then maybe Teeny Titans 2 isn't for you.
Tips from the first game which still matter :
Type advantage is a thing – Science or Tech is good against Karate or Martial Arts. Teeny Titans 2 is nice enough to show you the six types, their advantages, and disadvantages as you select your figures before each battle. This translates into extra damage. Usually, you'll do a bonus of 1 or 2. This seems small but can equal a 20% increase in damage for small attacks like Starfire's Laser Eyes. I currently deal 5 damage with a level 8 Starfire. The bonus bumps it to 6 or 7 damage. She will hit at least twice by the time your enemy's bar completely fills for an attack normally dealing 10 damage. Outracing the opponent becomes much easier!
Swap your figs and stat them for roles – Teeny Titans 2 doesn't classify any hero as a healer or tank. Their abilities are generally obvious. I recommend focusing one of your figures on health and dodge, another for Power and Luck, and the last however you decide. This will allow you to swap or power up your damage dealer with a tank before the damage dealer gets owned. You could just go for generally good stats like health, yet where's the fun in that?
Teams get bonuses – You'll quickly learn teams get stacking bonuses once you have your first two Titans and add a third. The bonuses are more significant at the start of this game. Three Titans will give +5 health! Once your figures hit level 5 you can equip Mod Chips for special bonuses. And eventually, you can feed extra figures to your best 6 to upgrade their abilities via Enhance! Robin's first enhancement gives Heroic Pose a better Power Increase. Feed the same figure if you want better enhance XP.I hope the review and tips help you out, dear reader! Save Teeny Titans from extinction, or just collect them before they cost too much. Your decision.
Links: The App Store link is at https://itunes.apple.com/us/app/teen-titans-go-figure/id1323070827?mt=8.
Disclaimer: I'm not being paid by Cartoon Network or anyone else to write these tips. The only money I could make would be through advertising on this site or on YouTube at this point in time. I don't take responsibility for the content on sites linked to from this article.
by Brian Petrilli AKA Jalinon